Have you recently transferred your investments to Charles Schwab and noticed a deduction in your account balance?
If so, it's likely that your former broker charged you an outgoing transfer fee. This is a common practice among brokerages like Robinhood and E-Trade.
The outgoing ACAT transfer fee can range between $75-100.

In this blog post, I'll show how to request a transfer fee reimbursement from Charles Schwab.
Charles Schwab ACAT Transfer Fee Reimbursement (2023)
If you need to get reimbursed for the account transfer fee from Charles Schwab, you must reach out to their Investor Development team.
This team specializes in assisting new clients and incoming assets and can determine if reimbursement is possible, which is highly likely.
To contact them directly, call 877-412-6116, Monday through Friday, from 8:30 am to 8:00 pm EST.
You can also open a live chat window in your Schwab account portal. Talk to a customer representative and ask for an ACAT transfer reimbursement. Some clients were able to get their fees reimbursed by Charles Schwab through the live chat.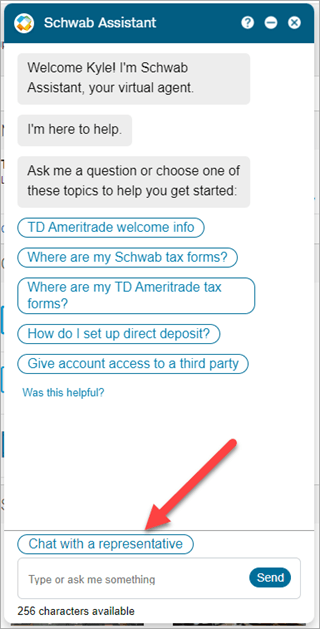 How Long Does It Take?
Charles Schwab may request proof of the charge before processing your reimbursement request.
You can find this information in the most recent statement from your former broker.
Once your reimbursement request is approved, it takes 1-3 business days for the money to be credited back to your Schwab account.
Is There a Minimum Portfolio Balance To Get Reimbursed?
Believe it or not, Charles Schwab does not require you to have a certain amount in your account balance to get reimbursed for the transfer fee.
Brokers like Fidelity will only reimburse the transfer fee if your account balance exceeds $25,000.
With Charles Schwab, even small investors can qualify for a refund, so you can rest assured that your account is eligible regardless of the portfolio balance.