It is true that Charles Schwab does not charge any commission for their stock and ETF trades. However, we should note that there are commission fees for options trading.
The online base commission fee remains $0, while there is still a charge of $0.65 per option contract.


Consider the scenario where you are a day trader and you trade about 100 option contracts every month. In this case, you would end up paying $65 in option commission fees.
As the trading volume increases, the accumulated option fees could add up.
Fortunately, Charles Schwab is known for being flexible and prioritizing their loyal customers. In this article, I will guide you through the process of negotiating with Schwab to reduce your commission fees.
Charles Schwab Commission Negotiation
Before we begin, let's make sure that you even qualify to negotiate for cheaper commission fees at Charles Schwab.
It is recommended that you meet the following criteria:
Your account with Schwab has been active for a minimum of 1-2 years.
You're a day trader / active trader. This is important because we need proof of how much you spent on commissions at Charles Schwab.
You trade at least 50+ option contracts each month. The more, the better. 1-5 options per month aren't going to get you anything at the negotiation table.
Do you qualify? If so, let's get your commission fees lowered.
How to Lower Your Commission Fees at Schwab
You have already established a long-standing relationship with Schwab and executed numerous contracts through their platform. Thus, there is no reason why the brokerage would not be willing to negotiate with you.
Step 1: Contact Charles Schwab customer service at 800-435-4000 or use the Live Chat feature on their website. Either method will work.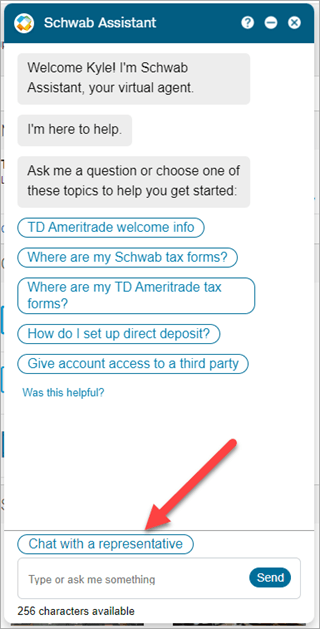 Step 2: Ask to speak with a customer representative. The reason for the call is you want to reduce your commission rate.
Step 3: Explain your request in detail. This is the template I used to successfully lower my option fees at Schwab.
You can say the same or slightly modify it to fits your needs.
Been a long time customer of Schwab, and I want to lower my commission fees for options. I have been actively trading stocks and options this year, and I intend to continue doing so. In fact, in the past year alone, I have paid approximately [$4,500] in commissions to Charles Schwab. Perhaps you could help me reduce this fee.
Step 4: The rep will get back to you with a new rate. If you're happy with the rate then go ahead and accept it. If you have a different figure in mind, you can give them a direct answer.
This is what I used:
Thanks for your consideration. But I've spent so much on commission fees with Schwab that I would like to lower my commission from $0.65 to $0.50. Could you do that for me? I would very much appreciate it.
Luckily, the rep was happy to accommodate, and I got my commission rate for options changed to $0.50 per contract.
I hope that was helpful. And remember, you only need to prove two things:
You're a loyal customer.
You have paid a lot of commissions.