A paper trading account in ThinkorSwim allows you to trade using a hypothetical balance. In short, your real money is not on the line as you navigate the stock market.
Paper trading also enables you to conduct tests and get insight into your trading strategies and habits.
In this guide, I will show you how to switch from a live trading account to a paper trading account in ThinkorSwim.
How to Switch to ThinkorSwim Paper Trading
Step 1: Launch ThinkorSwim on your desktop.
Step 2: Enter your username and password.
Step 3: Before clicking Log in, make sure the account type is set to Paper Money.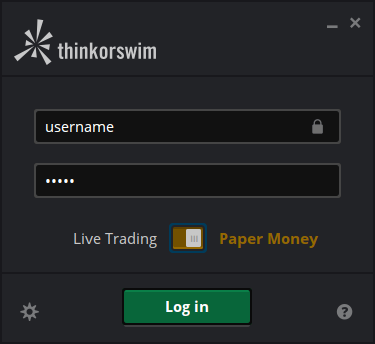 Note: If you are presently logged in to your live trading account, you must close ThinkorSwim and reopen it.
ThinkorSwim Paper Money is a brilliant feature, especially if you want to understand how the market may react to certain scenarios.
Paper Money is ideal for testing new trading strategies and approaches without risking real money.