In 2020, Charles Schwab acquired TD Ameritrade. Since then, many of you have wondered what will happen to ThinkorSwim, the popular trading and charting platform owned by TD Ameritrade.
When we say ThinkorSwim, we're talking about the desktop platform, the mobile app, and the web-based service.
In the second half of 2023, the merger between Charles Schwab and TD Ameritrade is expected to be completed.
Will ThinkorSwim be killed off, or will Charles Schwab make it part of its ecosystem?
The good news is that the merger should not have any major effect on ThinkorSwim users. While it is true that Charles Schwab will own the platform, most of the features and services that ThinkorSwim currently offers should remain unchanged.
ThinkorSwim is here to stay and Charles Schwab already has plans for it.
Users can expect to be introduced to new features across ThinkorSwim desktop, web, and mobile platforms later in 2023.
However, some changes and improvements have already been made.
Here's what we got so far.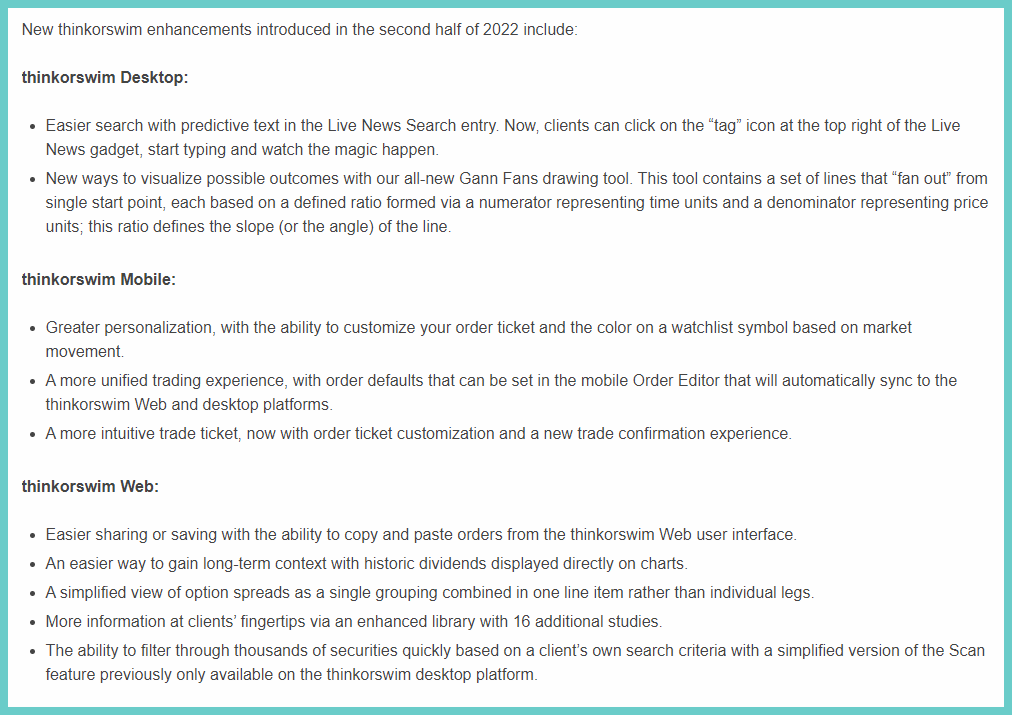 Finally, this release focuses on the backend integration work, specifically the preparation of ThinkorSwim to allow access for new Schwab users and expand the capabilities of internal systems to support Schwab clients.