Is your ThinkorSwim crashing, lagging, or timing out? Do you see a memory usage error on your computer?
If that's the case, you need to increase memory usage (RAM) for TOS to run smoothly.
Occasionally, you'll run into an error reporting that you've hit the memory usage limit for ThinkorSwim.
This error usually happens when you execute something that could be resource-hogging or your computer doesn't have enough memory to handle the task.
In this article, I will show you how to free up memory on your ThinkorSwim and adjust the memory settings for optimal performance.
ThinkorSwim System Requirements
Here are the minimum hardware and operating system requirements for ThinkorSwim.
| | Average user Mac | Average user PC |
| --- | --- | --- |
| Operating system1 | Windows 7 | 10.10+ |
| Processor | Intel Core i3+ | Intel Core i3+ |
| RAM | 4 GB | 4 GB |
| HD free space | 500 MB | 500 MB |
| Display resolution | minimum 1280 x 768 | minimum 1280 x 768 |
| Video card | Integrated graphics | Integrated graphics |
| Network | 4 MBPS download speed | 4 MBPS download speed |
Before you continue your charting journey, ensure that your computer has what it takes for ThinkorSwim to operate.
It's time to troubleshoot ThinkorSwim if your PC or laptop satisfies the system requirements but is still noticeably slow.
How to Speed Up ThinkorSwim Performance
There are multiple optimization techniques that you can use to make ThinkorSwim load faster.
Adjust Memory Usage Settings
Before logging in to your ThinkorSwim account, there is a setting icon that you can click on to customize the look and feel and change the memory usage configuration.
The ThinkorSwim memory usage settings that work best for me are 256 – 12288 MB.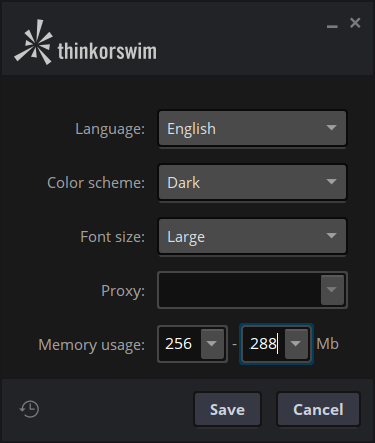 Evidently, that is not the absolute limit. However, the performance has been sufficient for me to stop increasing TOS's memory consumption.
If, for some reason, ThinkorSwim is still very slow on your computer, you can go back to this screen and max it out.
Remove Unused Custom Scripts
Keeping unwanted custom indicators in ThinkorSwim can potentially slow it down.
It's better to remove any custom scripts you don't use.
Go to Studies > click on the dropdown icon in the search bar > select User Defined.
This folder contains custom scripts in your TOS account.
Right-click on a study and click Delete.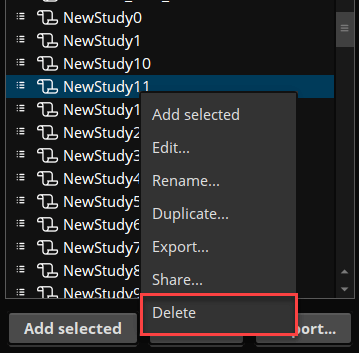 Delete the USERGUI Folder
Deleting the USERGUI folder has solved a lot of problems related to ThinkorSwim.
For instance, when TOS was stuck on "Installing updates" or the OnDemand feature wasn't working.
On Windows, you can locate this folder in Program Files/thinkorswim/USERGUI
On Mac, go to Applications/thinkorswim/USERGUI
When you delete this folder, it clears the cached data and frees up memory.
Edit vmoptions File
In the same ThinkorSwim directory, find a file named thinkorswim.vmoptions.
Open it and replace the existing file with the following snippet:

-Xmx2048m -Xms1024m -XX:MaxPermSize=256m -Dawt.useSystemAAFontSettings=false -Djava.util.Arrays.useLegacyMergeSort=true -Classpath/p launcher-first.jar -Djava.net.preferIPv4stack=true -Dsun.java2d.xrender=True -XX:-UseConcMarkSweepGC -Dsun.java2d.noddraw=true -Dsun.awt.disableMixing=true

Courtesy of Nuke on YouTube.
Summary
Memory errors in ThinkorSwim can be frustrating.
Fortunately, there are many ways to fix a slow or lagging ThinkorSwim.
I hope some of the solutions above were helpful. If so, please take a moment and share it.