While TD Ameritrade and ThinkorSwim share the same parent company (Charles Schwab), they remain distinct.
If you're wondering which one is right for your trading, this guide will help you decide.
I'll start with general information about both platforms and then dive into more specific details about how they differ in terms of features, pricing, and customer service.
What's the Difference Between TD Ameritrade and ThinkorSwim?
The main difference between TD Ameritrade and ThinkorSwim is that TD Ameritrade is a traditional brokerage while ThinkorSwim is a standalone platform (offered by TD Ameritrade) with advanced charting and analysis tools for traders.
What is TD Ameritrade?
TD Ameritrade is a brokerage firm similar to E-Trade, Fidelity, and Vanguard. They provide investment products and services, including stocks, mutual funds, ETFs, futures, and options.
TD Ameritrade is free to use. There are no account minimums and data fees, which means real-time quotes are available without the extra cost.
Furthermore, $0 commissions when you trade stocks, options, and ETFs, on the TD Ameritrade website and mobile app.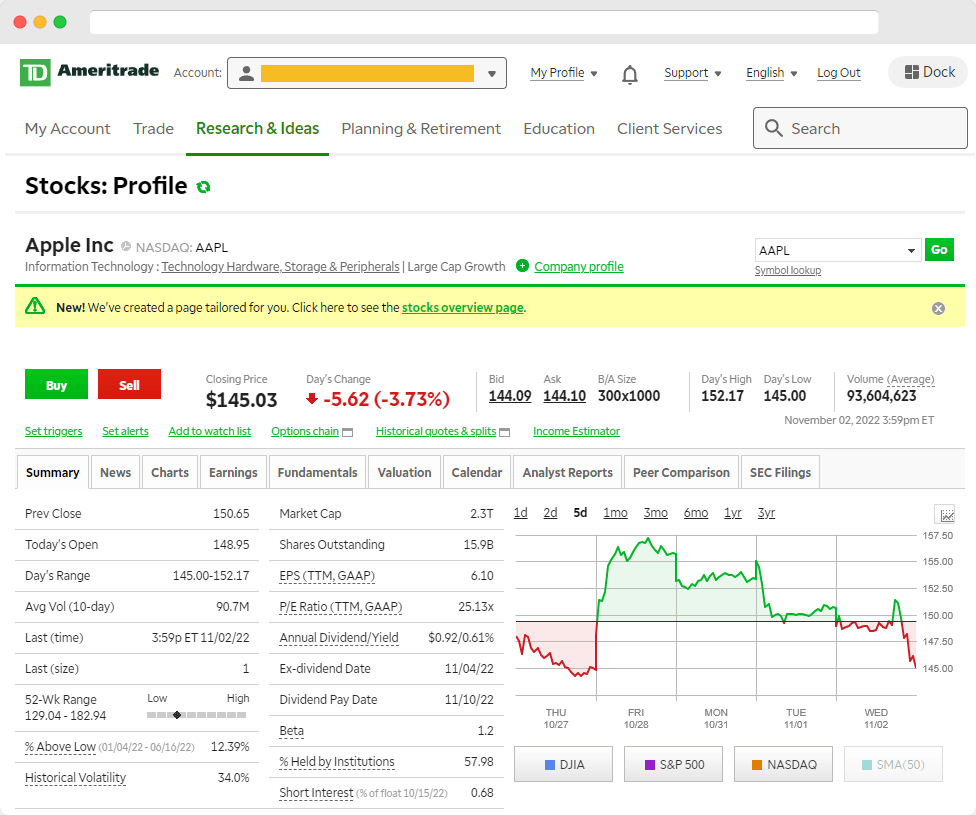 What is ThinkorSwim?
ThinkorSwim is owned by TD Ameritrade. However, it's a separate trading platform designed for active traders.
ThinkorSwim is available as a desktop application and a mobile app. This is also another aspect that distinguishes TD Ameritrade from ThinkorSwim.
The charting features on the ThinkorSwim platform are more robust than TD Ameritrade; alerts can be set up based on technical indicators like Bollinger Bands, RSI, or MACD.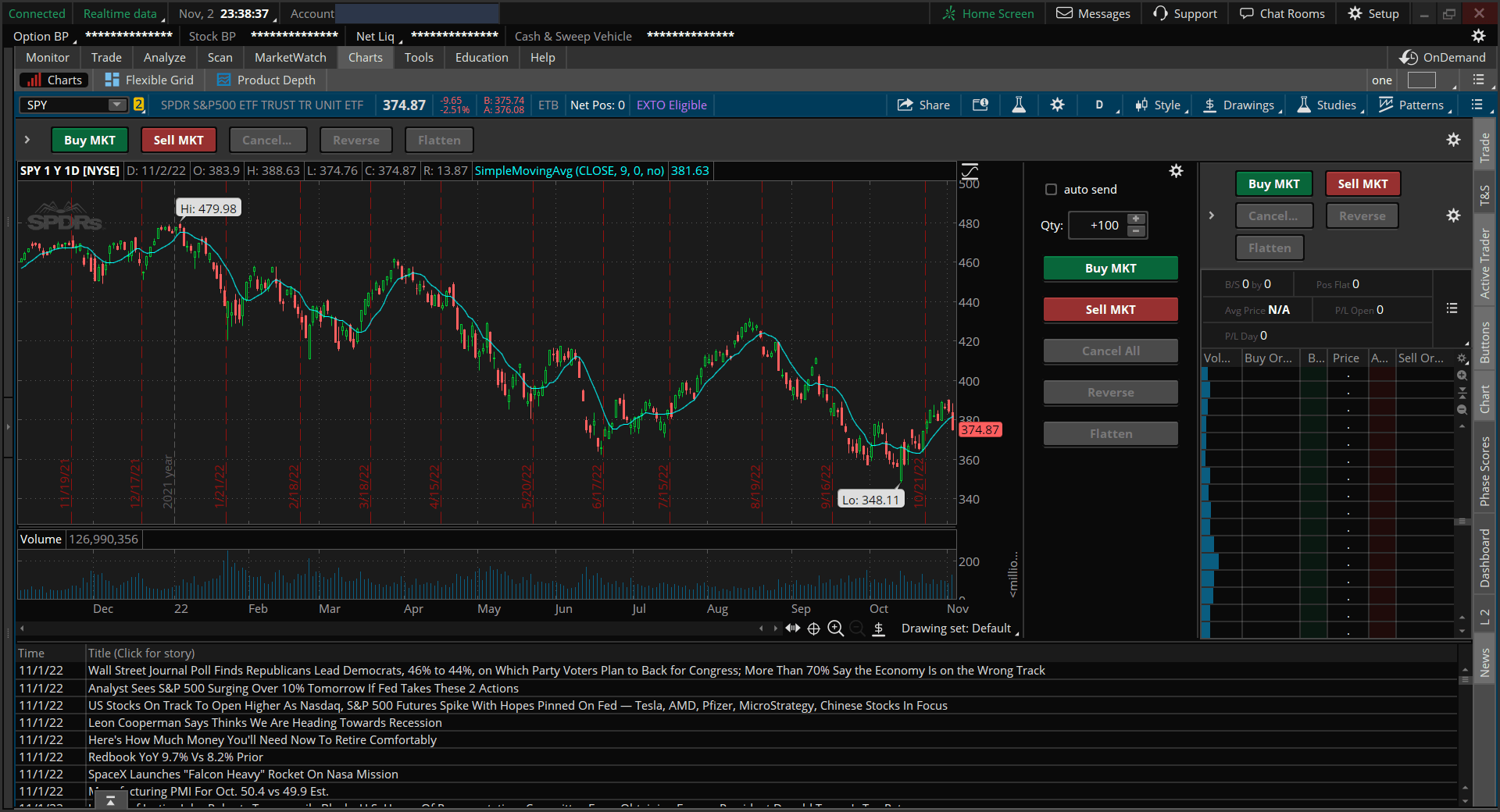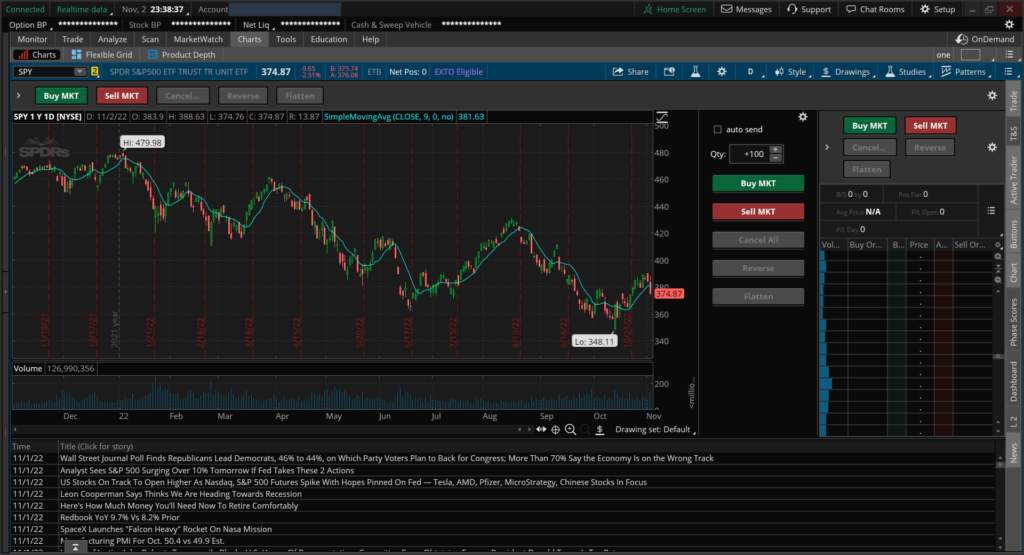 It even comes with pre-built scanners to help you find stocks based on their fundamentals, such as market cap, earnings per share (EPS), and more.
Should You Choose TD Ameritrade or ThinkorSwim?
In truth, both can be great options, and the answer comes down to your needs.
If you only want a simple brokerage experience, TD Ameritrade is the better choice. However, if you want to get into more advanced trading and investing techniques, ThinkorSwim may be the best option.
Let's break it down further…
Here's what you need to know about using TD Ameritrade:
It's easy to use and great for beginners.
You can trade stocks, ETFs, mutual funds, options, and more.
There are no account minimums.
You get access to research from Morningstar, Market Java, and more.
Here's what you need to know about using ThinkorSwim:
It's best for active traders.
Custom indicators, scanners and backtesting strategies.
You can trade stocks, options, futures, and forex.
You need an account with TD Ameritrade to use it.
The software needs to be installed on your computer or mobile phone.
Whether you select TD Ameritrade or ThinkorSwim, one thing is for certain: they both offer excellent customer service.